Improves Performance and Protects Equipment
When winter brings frigid nights to Connecticut, you need your heating system to run reliably. We treat all of our heating oil with UltraGuard, a premium additive that works specifically with BioHeat B20 and keeps system components clean and reduces the chances of an untimely heat outage. The heating oil we deliver benefits customers in several ways: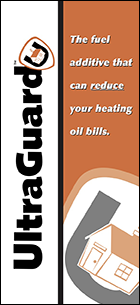 Provides stability to the fuel
As untreated heating oil ages and sits in the storage tank, its effectiveness can degrade and cause issues with the combustion process. UltraGuard protects heating oil from degrading and boosts its combustibility.


Disperses sediment buildup
Sediment buildup can lead to costly repairs, as the particulates can find their way into the heating system and cause damage to the components of the equipment. UltraGuard protect heating equipment from breaking down.


Inhibits corrosion
Fuel storage tanks are incredibly durable, and are built to last. However, rusting and corrosion is still a possibility – especially for older storage tanks. UltraGuard protects fuel storage tanks from fuel releases.


Cleans and lubricates
Any surfaces that comes into contact with the treated fuel, including filters, fuel lines and nozzles, are kept clean and lubricated, allowing the heating equipment to perform optimally as long as the fuel is treated. UltraGuard protects the efficiency of home heating systems.


Better quality fuel is one of the hidden benefits that Tracey Energy delivers. (Many heating oil dealers use no additive in their fuel.)
For more information, click here to check out the UltraGuard brochure.
Proudly Serving:
Ansonia
Clinton
New Haven
East Haven
West Haven
Orange
Derby
Milford
Woodbridge
Bethany
Cheshire
Seymour
Hamden
Wallingford
North Haven
Northford
Shelton
Branford
North Branford
Guilford
Madison