The Tracey Energy Team Is Always Thinking Ahead
Tracey Energy achieves great success year after year by anticipating our customers' needs and being proactive. Our customers have busy lives, and we improve their peace of mind by making home comfort predictable, reliable and convenient.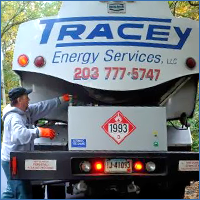 We maintain your heating and cooling equipment thoroughly to improve efficiency, extend equipment life and minimize the likelihood of equipment failures. The heating oil we deliver is treated with a performance additive that improves efficiency and cleans your system.
We deliver fuel automatically, so you never have to watch your fuel gauge or place an order.
We reach out to customers when we think their heating and cooling equipment is under-performing and offer free evaluations and sound advice about upgrade options.
We make fuel buying easier and more predictable with budget plans and price protection.
Tracey Energy customers can manage their accounts online through this secure website.
We are always looking for new ways to serve our customers so that we can simplify their lives by meeting every home comfort need.
Proudly Serving:
Ansonia
Clinton
New Haven
East Haven
West Haven
Orange
Derby
Milford
Woodbridge
Bethany
Cheshire
Seymour
Hamden
Wallingford
North Haven
Northford
Shelton
Branford
North Branford
Guilford
Madison