Read What Our Customers Are Saying
We always appreciate feedback from our customers. If you would like to let us know how we are doing, please call us, send us a letter or contact us online.
Google
7/16/23

The technicians were so professional and kind. I've never had a problem.

Gina D.
Google
7/15/23

Tracey Energy has had the contract for the two furnaces in the house that I own for over 40 years and they have always been top notch and dependable.

Richard F.
Review Buzz
5/19/23

Our service tech was very nice. He was thorough., He did an excellent job. I would recommend him to anyone needing service.

Jean B.
Milford, CT
Review Buzz
5/14/23

I have been a Tracey customer for 25 years and they have always been very professional and always answer my questions and help me out.

Nancy S.
West Haven, CT
Review Buzz
5/13/23

The driver was very patient with me asking all sorts of questions about how many houses does he deliver to in one day, how many gallons does the truck hold, the difference between diesel fuel and heating oil. I learned a lot and he was a good teacher, also he didn't spill one drop on my driveway. Nice job.

Charles W.
Danbury, CT
Review Buzz
5/10/23

Technician did a very thorough inspection and adjustment of heating unit. I was very satisfied with results.

Joseph V.
Milford, CT
Google
5/2/23

The guy who replaced my zone valve and motor did a great job. Really clean work and friendly demeanor.

Daniel D.

Google
5/1/23

Exceptional service. There is no issue too little or too big. Trustworthy and Professional. Feels like working with your favorite relatives.

Antwan N.

Review Buzz
4/28/23

Guys know their stuff, figured out our problem in 10 minutes time! Thanks!

Lawrence S.

Review Buzz
4/17/23

The quick response was great.

John L.
Lawrence, MA
Review Buzz
4/7/23

Tracey is the man (men and women?)!! Good job! Fixed my oil pump...Sweated that on out...

Lawerence S.

Review Buzz
3/2/23

Always friendly, reliable and knowledgeable. Great company and wonderful people.

David M.
Milford, CT
Review Buzz
3/2/23

Very professional and courteous.

Gautam P.
Milford, CT
Google
3/1/23

They did an excellent service on my furnace and the tank and fuel line.

Christopher T.

Google
3/1/23

I've been with Tracey for several years and I have always been impressed with every aspect of their service.

Alexis M.

Google
3/1/23

The technicians at Tracey are very professional and helpful. They come so many times to fix our heating system this season and A/C in the past. Glad we can count on this company especially Gary. To Tracey Energy and staffs Thank You and Thank you!

Maria P.

Review Buzz
2/22/23

Always a pleasure to work with.

Thomas P.
Wallingford, CT
Review Buzz
2/20/23

Dave was great, but he was a little swamped that day. no surprise given it was the coldest day of the winter. My only complaint is that I didnt get a call back until after I called the answering service a second time. but at that point he was on his way, so that was good.

Robert T.
Bronx, NY
Review Buzz
2/15/23

Always friendly and knowledgeable

Thomas P.
Wallingford, CT
Review Buzz
2/7/23

Tracey Energy Services is #1 in my book, the staff are always responsive.

William J.
Guilford, CT
Google
1/7/23

The technician was very personable, and diligent and conscientious about doing a complete job. In addition everything was clean and neat when he finished. We couldn't be more pleased with the service.

Allana A.

Google
1/7/23

They provide oil delivery service, too. Very professional and responsive to customer needs and parameters. I appreciate their attentiveness to my home heating needs, particularly in the face of a fluctuating oil market and customer demands. I appreciate the partnership.

James D.

Google
1/7/23

The staff at Tracey Energy is always professional whenever I call. Everyone is ready to serve, and they always expedite to the level of satisfaction. Rather it is for oil delivery or repairman. No issue goes unresolved. I would defiantly recommend their service.

Mozelle A.

Google
12/7/22

AT cleaned my furnace. Excellent job. Explained everything in detail, cleaned up after himself. Went above and beyond the call. Professional, courteous and polite. I'm a brand new customer and I purchased a service contract. Paid for one year and two additional years was included plus three cleanings. One per year. I highly recommend doing business with them. One of the owners Ralph came out from behind the desk during a visit to their office; shook my hand and introduced himself. Welcomed me as a new customer. Five stars!

Sephene B.

Google
12/7/22

I am thankful for the team at Tracey Energy Services for coming out multiple times to repair my heating system. They are honest, fair pricing, and worked hard to save me money on fixing my unit. From the friendly office team and the techs who walked my through the issues and repairs needed, I am definitely recommending them to anyone willing to support a local business who does great work! Thank you.

Apartment Rental

Google
12/7/22

Tracey Energy is a great company. Every time I call they are quick to help and very professional. I would strongly recommend them. I'm a very pleased customer!

Debbie H.

Google
12/7/22

The tech came for a service call and diagnosed an issue that 3 other companies had missed. The charge was only $115, less than other companies charge. So far, I'm happy with them.

Dov C.

Google
10/30/22

This company provides service that goes above and beyond. I've had significant issues in my new home that they responded to so quickly and professionally but also as a newly single older person in a home that was somewhat intimidating for me, they also responded quickly and professionally to a few of my kind of invalid calls due to my lack of knowledge about operating the heating and cooling systems of my home...sending techs who check everything out and explain everything in kind, respectful detail without rushing to move on to their next call. Really this company is reflective of the 1950's where customer service is all and everything like that scene from "Back to the Future" where Marty pulls into a gas station and 4 neatly uniformed attendants come running out to gas him up, check all his fluids and wash his windshield. A rare and invaluable gem of a company.

Phyllis R.

Google
10/30/22

Tracey Energy answered my call for a broken thermostat and had someone here within an hour or so. The two men who arrived were prompt, polite, and fast. They told me the cost up front before doing anything and they were in and out before my house even got too hot from no AC. This business was completely professional from start to finish and I would call them again in a heartbeat.

Cindy H.

10/25/22

We are responding to an email we received regarding our recent service. We are very pleased with our annual furnace cleaning done recently. We had requested David because he had solved a previous problem for us in the past. We find him to be reliable, thorough, neat and very personable. When he didn't have the pad to replace in our humidifier at the time of service, he went and got one and returned a little while later to install it for us. That's service! We have been happy with Tracey service for over 40 years. Keep up the good work!

Diane and Mike V.
Facebook
12/4/21

I just wanted to say a huge thank you to Dave for coming out today and fixing our furnace. It conked out sometime during the early hours. We called Tracey energy and Dave was here in just a couple hours. He fixed the furnace in no time and we are very grateful. That's another reason we have been customers for so long. Happy holidays everyone.

Kathy Z. W.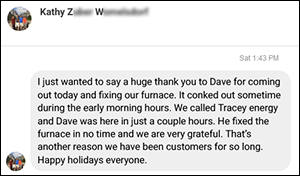 Review Buzz
5 Star Rating
2/3/2021

Excellent company. Have contracted with them for the past several years. Extremely dependable, had a tech out within one hour of a "no-heat" call. Oil was running low and called only to be reassured that the delivery was scheduled for today. Though we've been using more oil during the pandemic, Tracey Energy seemed to make the necessary adjustment to the automated delivery.

Thank you!
Varman S.
Proudly Serving:
Ansonia
Clinton
New Haven
East Haven
West Haven
Orange
Derby
Milford
Woodbridge
Bethany
Cheshire
Seymour
Hamden
Wallingford
North Haven
Northford
Shelton
Branford
North Branford
Guilford
Madison