Read What Our Customers Are Saying
We always appreciate feedback from our customers. If you would like to let us know how we are doing, please call us, send us a letter or contact us online.
10/25/22

We are responding to an email we received regarding our recent service. We are very pleased with our annual furnace cleaning done recently. We had requested David because he had solved a previous problem for us in the past. We find him to be reliable, thorough, neat and very personable. When he didn't have the pad to replace in our humidifier at the time of service, he went and got one and returned a little while later to install it for us. That's service! We have been happy with Tracey service for over 40 years. Keep up the good work!

Diane and Mike V.
Facebook
12/4/21

I just wanted to say a huge thank you to Dave for coming out today and fixing our furnace. It conked out sometime during the early hours. We called Tracey energy and Dave was here in just a couple hours. He fixed the furnace in no time and we are very grateful. That's another reason we have been customers for so long. Happy holidays everyone.

Kathy Z. W.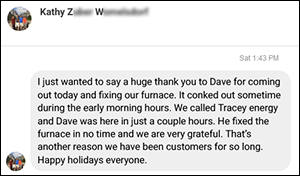 Review Buzz
5 Star Rating
2/3/2021

Excellent company. Have contracted with them for the past several years. Extremely dependable, had a tech out within one hour of a "no-heat" call. Oil was running low and called only to be reassured that the delivery was scheduled for today. Though we've been using more oil during the pandemic, Tracey Energy seemed to make the necessary adjustment to the automated delivery.

Thank you!
Varman S.
Customer Survey
10/29/2020
We really appreciate your friendly and professional service. We shopped around and ultimately went with Tracey Energy because you gave us the best price and service. We highly recommended your company to friends and family.
Edwin G.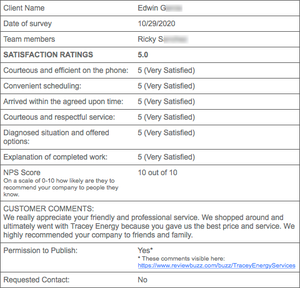 10/20/2020
I've lived in my home for nearly 20 years and have used Tracey Energy and their services since I moved in. They have always been excellent to work with and a pleasure to deal with. I recently had to have a new oil tank installed and both Keith and his associate worked efficiently and diligently to get the job done. They actually left the space cleaner than they found it! They did an excellent job and were extremely professional the entire time they performed this arduous job. I could not recommend this company more strongly!! I wish I could.
Thank you!
Jennie.
4/17/2018
Tracey Energy is very friendly and professional. We have done business with them for more than ten years and never had a complaint. Couple years ago, during a severe snow storm, they came to fix the leaking oil tank. We recommend this company to everyone. In addition, when you call them, there's a real person on the other side of the line.
Ben D.
04/16/18
Barbara was so kind with my needs and understanding and did everything she can to explain how it all works as I was clueless to oil needs and helped me with my needs as well. Thank you and her team!
REBEKAH J.
04/09/18
Our water heater burst on a Saturday night before Easter. I called Tracey and Dave called me back right away. He helped me to make sure no more water leaked out and how to turn off the water heater. He came Easter Sunday just to get the all the information to order the new water heater first thing Monday morning. He was here on Monday with the new heater and did a great job installing the new one.
Maxine A.W
03/27/18
Technician Dave D is extremely courteous and professional. Pleasure to deal with. Professionalism also extends to entire staff. Great Company.
Rich S.
03/15/18
I had a service guy here from Tracey. He has been here before. He takes great care of our heating system and has also worked on our AC. He does great work, works quickly and effectively and our system is running well by the time he leaves. We are pleased.
Chris T.
03/12/18
Dave and Ricky were great, cleaned and serviced my furnace in a speedy and professional manner, knew exactly what they were doing. Couldn't ask for more.
Jason D.
03/09/18
The service technician was very professional and knowledgeable. the service was and always is excellent.
ROBERT S.
03/06/18
I've had Tracey Energy for three years. Their office staff is always polite and helpful. Their technicians are prompt, friendly, and smart. I have an old boiler system, and they are doing a great job of keeping it going and doing a yearly check-up. I needed repairs this last time, and the technician checked with me before every step so that I knew what was being done. Just a great job. And I have heat again!
Janice S.
02/15/18
Dave is a great tech. Best service I have ever had for my oil needs.
Ralph D.
02/14/18
I have been a customer for 26 years and Tracey Energy has always been a very professional company to deal with.
Jim K.
02/08/18
David came to service my furnace and water heater, he was great, did a very good inspection and cleaned up all the components of both furnace and water heater. I will highly recommend him as a service technician.
Boris K.
02/07/18
Everyone at Tracey is great. I've been a client for years. Tony recently completed the annual check up and was friendly and courteous as usual.
Maria P.
02/04/18
Excellent service; very efficient, well organized and neat.
John V.
02/02/18
I have used Tracey Energy for years and just wanted to commend the great service that Dave D. preformed as well as their entire staff.
Jim K.
03/31/17
From long time customers in West Haven, CT.
"Tracey Energy has been our family's fuel oil supplier and furnace maintenance provider for over 70 years. With automatic oil delivery and a maintenance staff providing emergency service 24-7 every day of the year, our minds are at ease. We have never gone a day without heat! You can't beat that!" - Fred H.
"We were all set to buy a new furnace when Tracey's staff stopped us in our tracks. They came up with a solution where our older furnace still had more life left. This saved thousands of dollars at a time when we needed those savings." - Barbara H.
"It's kind of like "The Ghost Busters" with who are ya going to call? With decades of personal service in maintaining our fuel oil furnace and providing the fuel that feeds it, the third generation Tracey Energy Family is who we and our other family members call. We have our fuel delivered with automatic delivery to our home throughout the
heating season. Plus we have our furnace maintained as well as our air-conditioning equipment too by Tracey. They are total providers with service we trust. You can too!" - Aaron H.
04/20/16
Good morning Jennifer,

I thought I sent this email previously, however it was never sent ... only in a draft form sitting in my email box. I apologize for the delay in my response.

Thank you for your time and listening to my concerns most recently. I sincerely appreciate the accommodations you made, as I have been pleased with Tracey's customer service this past year. Joan has been my "go to" person for most questions/concerns. She was actually suggested to me by my realtor, Valerie Joyce of William Raveis. When Joan wasn't available, Gary took great care of me as well. Honestly, I prefer to support local businesses, especially when they have a great track record of service, and are monetarily reasonable.

Again, thank you for your committment to customer satisfaction. I look forward to continued service with your company in the near future.

Sincerely,

Althea W.
04/28/13
"I am writing on behalf of my parents who have been Tracey Energy customers for many, many years. Both are in their 90s and still live in the home they built 63 years ago. Despite my suggestion that with oil prices so high over the last couple of years we should 'shop around' they have steadfastly refused to consider any other oil delivery company or service provider. I now understand and agree with their loyalty to your company.

"After the February blizzard, when we were finally able to get into their house after five days, I discovered their furnace had shut down and the temperature in the house was 34 degrees. Luckily, they had come to stay with me during the storm. Your service department took care of us immediately, as is the case every time there is a problem.

"Their comfort level with your company and your personnel means a lot to me. When they call for service we always know it will be provided at the earliest possible opportunity. This is valuable peace of mind for all of us!

"Thank You!"

-Cynthia C
Hamden, CT
04/29/13
"I remember back about 15 years ago I had little kids and we needed a new boiler. The men from Tracey would come every year and tell me I was lucky to have another year out of my furnace because it was the original one put in when the house was built. I didn't have a lot of money to pay for a new one so I just would hope and pray to get through the next year. I worked part-time and my husband worked full-time at the time.

"I received several quotes to put in a new boiler including one from Tracey. I couldn't afford any of them and was going to wait it out once again during the winter and hope and pray my furnace didn't go. Then I received a call from your office and was informed I could be put on a payment plan. This made me feel so much better and it was something I could afford. I can't remember how long it took me to pay off my new furnace but without that call I would not have been able to purchase a new furnace.

"Thank you very much for assisting me and helping me with this purchase. Also, I remember my Dad mentioning he went to high school with your grandfather, probably who started Tracey, so my brother and I are your customers, we hope for life. He mentioned what a nice guy he was."

Mary Sue F.
New Haven
04/29/13
"When I lived in East Haven I had another oil company. I ran out of oil even though I was on automatic delivery. When we had a huge snow storm in 1978, they said they could not deliver oil as they could not get up my hill. A friend of mine had Tracey and when I called them they came right away with an oil delivery and I stayed with Tracey until I moved to West Haven.

"My husband had then changed to another oil company. When my husband was sick the oil bill was so high I asked to get on a budget plan but they said I had to pay the bill first before I could get another oil delivery.

"I remembered Tracey and called them. They had me on a budget plan, picked up my other contract, and gave me a free three year contract.

"I will never change from Tracey. They are always there for me and I can always count on them when I need them.

Thank You!"

-Marie D
West Haven
05/01/13
"It all began when I was two years old. We moved to Kimberly Ave in the Hill. Our first oil company was Tracey Energy. I am now 56 years old and still have Tracey Energy. I am a realtor and when I need an oil measurement, I call Joan. Done. When I need service, I call Gary. He has helped me many times and when I had a smoking furnace, after the hurricane, he assured me it would never happen again. It did not. When I need pricing, I call Ralph. He has always helped me through the thin times. The company always has been there; same address - which is very rare these days. Thanks guys, you are just like family."

Mike S.
05/03/13
"We have been with Tracey since 1945....That says it all."

Eleanor S. and Family
05/04/13
"It just seems like a few years ago, that we were greeted on the phone by Joan, one of your representatives. She was very warm and graceful and put us at ease.

"We always enjoyed dealing with Tracey, more so because of people like Joan. She's always been helpful and courteous, making suggestions which we appreciated.

"Just wanted to let you know it's been a pleasure dealing with you and again would like to compliment Joan for being so nice."

Mary A.
Hilford
05/19/13
"I am happy to be a 'returning' customer, and likely a permanent customer, of Tracey Energy Services! When we first moved into our antique home in Orange nearly seventeen years ago, I contacted several oil companies to determine with which I would like to become a customer. The personal interest taken by the Tracey associate, who is still with the company, was enough to convince me that I would receive the type of service and commitment that I was seeking.

"After a while, I was attracted to offers from other companies, and spent a number of years moving from company to company. Among those was an offer to supplement my budget payments and a free service contract for the first year of a three year commitment. All the while, I watched prices rise at a steady pace, exceeding the price of oil from other companies.

"Last year I decided to return to Tracey, based on the 'de-personalization' of these others. What I have found is a company that:

- Worked with me to accommodate my budget needs.
- Found a way to arrange deliveries so that my 'balance due' didn't increase.
- Proved to be true to their word regarding service. What a relief it is that, if the house is cold when I awake in the morning, a service person will arrive in a short period of time to find and solve the problem, bringing warmth again!"

John R.
Orange
05/15/13
"Dear Friends,

For many, many years we have been customers of Tracey Energy Services and for many, many years my husband (now 77 years old) took care of running our household. Now things have changed. In the last year my husband's health has been failing and the running of the household has become my responsibility.

Now, having your phone number on my list of important numbers gives me a real peace of mind knowing I can depend on your company and also knowing that in case of an emergency you are there 24-7.

Thank You!

Sincerely,
Joan O.
05/20/13
"Tracey Energy took a huge stress out of our lives. With their monthly payment option and monthly delivery we do not have to worry any more about how we will come up with a substantial sum of money for oil each month and about scheduling deliveries. It used to be so stressful worrying if we would run out of oil between deliveries. The service plan was an added bonus - keeping our boiler in tip-top shape. One day our boiler did not sound like it usually did. We called Tracey and they sent someone right out. The best part was we did not have to pay for the evaluation. It turned out to be nothing wrong. It gave us peace of mind as well as a little more education about our heating system. We have already signed our new contract for the 2013-2014 winter season! Joan has always answered all of our questions and given us outstanding customer service. Thank you, Tracey Energy!"

The C. Family
"We've been customers of Tracey Energy for the past 8 years. While we've seen friends & neighbors look for the "cheapest" oil (it never ends up being less expensive, does it?), we've stayed with Tracey because of the outstanding customer service. The office staff and technicians have always been terrific. Whether regular maintenance or having a new furnace installed, we've never been disappointed."

-Anne M.
Guilford, CT
"We've been Tracey Energy customers for almost five years now, and have been very happy with their service. In addition to delivering oil, they have done annual furnace and air conditioning checks for us and have always been friendly and professional. Even during last winter's crazy snow storms, they regularly delivered oil and we never worried about running out."

-Geralyn J.
"Excellent company to deal with and it has kind and courteous service, and easy to deal with."

-Frank A.
West Haven, CT
"Seeing this contest opportunity in your last newsletter made me realize that I should have formally thanked Tracey Energy years ago, back around 2000, when you helped us with financing a new furnace and air-conditioning system that included an air-filtering system for our autistic son who also has severe allergies. So, contest aside, I welcome the opportunity to let others know that Tracey Energy has always treated us much more like family than customers.

Our son is nonverbal so he is unable to tell us what he is thinking or feeling. Over the years, both at school and at home, we noticed that he had more trouble than usual during the spring months. It finally occurred to all of us that he might have seasonal allergies. We had him tested and it sure enough he had quite a few allergies, especially to grasses. So when the grass starts to grow in the spring or whenever people would mow their lawns, he would express his discomfort by acting out and becoming aggressive.

At the time, I was working only part-time and we never would have been able to afford to install the air-filtering system we needed for our son, especially since we needed a new furnace, too. We talked to Ralph and Joan about the situation and Ralph agreed to let us pay for the new system over time and interest-free. It's really unbelievable now that I think about it. How many small businesses would treat a "customer" that way? From the beginning, we have always felt that Tracey Energy really cared about us as people, not just customers. What you did for us all those years ago is a testament to that fact and I think of you guys every spring when we turn on the air-filtering system and our son is his usual happy, good-natured self again!

Thanks to all of you at Tracey Energy!"

-Suzanne G.
"One thing in life is certain - my 20-year-old furnace breaks down at least once each winter.

That's why I always get one of Tracey Energy's Service Plans. I know that I will be protected when the inevitable happens.

I'm a working-class person. Unfortunately, I began falling behind on my monthly payment plan. I began to worry that if my furnace broke, Tracey would not fix it if I was behind on my oil payments.

I called Tracey to ask about this. I even got to speak with one of the owners - now that's personal service! They were able to recalculate my monthly payments to a lower amount based on my recent oil usage.

Sure enough, my furnace broke down a few weeks later. And Tracey repaired it within an hour or two.

So, as it turns out, two things in life are certain - my furnace will break every winter and Tracey will fix it. That's a warm feeling you can count on!

I'm also thinking about having my old furnace replaced - by Tracey, of course. They did a great job of replacing my water heater a few years ago. Maybe I will have them fix the kitchen plumbing too."

-Michael M.
Bristol, CT
"One Friday in mid-April of this year, we awoke to a cold morning and a problem with our heat. While I am very sensitive to the cold, I was even more concerned about my 83 year old mom who was coming to visit for a few days. My husband called Tracey Energy who promptly sent a technician to our home. The technician quickly diagnosed the problem and replaced the thermostat. We were very grateful to get our heat back so quickly and even more grateful that we have an energy company that we can always depend on. This is not the only time Tracey came to our rescue.

In 2011, they not only replaced our hot water heater in a timely fashion, but they also offered us a very generous interest-free payment plan. Another time, someone in Service provided telephone assistance to my husband regarding our air conditioning system.

We have had the pleasure to deal with a number of Tracey Energy employees, including with the owner, service department, billing department, etc. They exemplify the true meaning of customer service. Thanks, Tracey!"

-Janet & David R.
Northford, CT
02/07/18
Very responsive to customer's needs, easy to talk with, excellent service. Whatever needs to be done, they keep working diligently until it is just right for you.
Melvin and Jennie A.
02/09/18
Our experience with Tracey Energy, during this recent furnace trouble we were having, was very good. They responded quickly. Tony was very professional and quickly diagnosed the problem. He fixed it quickly and efficiently. We have been customers of Tracey Energy for years and have been very satisfied with their service.
Mrs. A Iadarola
Proudly Serving:
Ansonia
Clinton
New Haven
East Haven
West Haven
Orange
Derby
Milford
Woodbridge
Bethany
Cheshire
Seymour
Hamden
Wallingford
North Haven
Northford
Shelton
Branford
North Branford
Guilford
Madison