At Tracey Energy, we install and service top-of-the-line furnaces, boilers and water heaters from a long list of reputable manufacturers. We'll help you find the heating equipment that's right for you. The question is, is it time to upgrade?


Why Upgrade?
A heating system does not have to break down to be ready for replacement. Some systems continue to function long after they should be taken out of service due to inefficiency, and homeowners need the help of a heating expert to make an informed decision. We offer free heating system evaluations to our regular customers. A Tracey Energy conservation expert will give your equipment a complete examination and efficiency test and then provide a thorough explanation of your options and the ramifications of each choice, including the likely return on investment and payback period.
A sophisticated, modern heating system must be installed properly, or the efficiency could be reduced by as much as 30 percent, according to the U.S. Energy Star® program. Tracey Energy's installers are seasoned professionals who understand today's sophisticated heating equipment. They are committed to performing precise installations every time, and they have the knowledge and the tools that the job requires. Once they set up your system, they test it thoroughly with advanced diagnostic equipment to ensure that it is performing in accordance with the manufacturer's specifications.


Brands We Carry
Burnham Boilers

Burnham builds the industry's only three-pass, oil-fired steam boiler and the only atmospheric gas boiler made in America, and that's just a sampling of their extensive product selection. Oil or gas, water or steam, direct vent, chimney vented or induced draft: there's a Burnham boiler for every home or business. It doesn't matter how you heated your property before; with a Burnham product, you'll get the best comfort, durability and safety for your energy dollar, for years to come.
Utica Boilers

Utica's American-made hot water boilers are backed by what the company calls "the most straightforward, comprehensive warranty in the industry," including a lifetime warranty on the entire heat exchanger. The company also produces a wide range of ultra-high-efficiency condensing gas boilers, including both wall-mounted and floor-mounted models, with a built-in Outdoor Temperature Reset that can reduce annual heating expenses by up to 40 percent per year.
Thermo Pride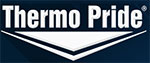 Handcrafted products, hometown values, and the highest standards of quality and efficiency: these are the characteristics that make Thermo Pride one of the world's most trusted furnace manufacturers. Historically rated among the industry's best, their oil-fired furnaces are available in tall "Highboy," compact "Lowboy," and adaptable Counterflow/Horizontal designs. And with AFUE ratings in the 95-97 percent range, their condensing and modulating gas furnaces take energy-efficient home heating to a whole new level.
Weil-McLain
Weil-McLain is a leading designer and manufacturer of heating and cooling equipment for residential, commercial and institutional buildings. Their line of Ultra oil-fired boilers can be equipped with an Advanced Features Module that enables the Ultra to adapt automatically to changing weather conditions. The Ultra uses an outdoor thermometer to detect the temperature and alter its water temperature setting accordingly and deliver heat consistently and efficiently.
Peerless

Peerless has developed some of the most dependable and efficient boilers on the market today, including the Pinnacle, which uses condensing technology to achieve an efficiency rating (AFUE) of 92 percent. The residential boiler is equipped with a Beckett AFG Burner, enabling the boiler to reach efficiencies well in excess of conventional boilers. The heat exchanger is constructed of high alloy stainless steel that assures the boiler's durability and protects from corrosion.
Williamson-Thermoflo

Williamson-Thermoflo offers an extensive line of high-quality, energy-efficient boilers, furnaces and air conditioners that are recognized for rugged, quality construction and reliable, long-lasting performance. Their systems offer easy installation, time-saving maintenance features, long service life and solid warranties.
Service Plans
Due to the ever-present threat of extreme cold weather, no Connecticut home should enter the heating season without a guarantee of 24-hour emergency coverage for the heating system. A heating system is most likely to fail in extreme cold weather, and heating companies may be flooded with emergency calls at the very moment when you need help the most.
The best way to be prepared is to enroll in a Service Plan for your heating system. Tracey Energy offers a choice of three service agreements for heating oil systems, so you can choose the coverage that matches your needs and your budget. We guarantee prompt emergency response to heat emergencies for our Service Plan customers.
Proudly Serving:
Ansonia
Clinton
New Haven
East Haven
West Haven
Orange
Derby
Milford
Woodbridge
Bethany
Cheshire
Seymour
Hamden
Wallingford
North Haven
Northford
Shelton
Branford
North Branford
Guilford
Madison